"TESTIMONIALS"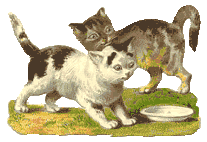 (emails from new owners)
Oliver is such a wonderful little kitten. He was purring the minute my mom and I picked him up from the airport. Right now, he is playing with Angelique.

Thanks again. :)

Shannon in WA

OMG, that picture is so cute, so cute. Now that we have her home, the picture makes so much sense - she is such a friendly, fearless,
adventurous, lover-girl fuzzball!!

Let's see, in the few hours she's been "home", she's: purred a
million times, played with at least 7 of big brothers toys, walked
happily through almost the entire house (although we mostly keep in
her bedroom for now), eaten a ton (she seems to be bulking up
already), used her litter-box more than a few times (1 & 2!), passed
out in mid-stride, flip-flopped names (Bella & Izzy, jury is still
out), put big brother at guard, killed the battery in our digital
camera, walked up and down the steps, tried to climb the bed, jumped without fear off the bed, and simply been adorable.

She's the best - thank you!

Mike & Kristen in PA
Thank you so much for rico! he is perfect!

Kiki in Colorado

Ray & Sally:

We love this kitten to pieces; he gets more attention than most human babies. He has a fabulous personality and a total lovebug. Big time "daddy's boy". Spoiled rotten. Wrestles with his big brother so much that the Ragdoll hides from him. He reminds us of a lot great things about our former Himmie of 18 yrs., "Checkers". He's a genuine character. Totally mischievous. When he sits in the front bay window, passing kids love to talk to him. I'd send your some pictures of the boy, but I'm having problems with my scanner. Should be fixed by next week then will forward. He's getting big. Coloring is beautiful. Wants nothing to do with his own bed; sleeps with us, which is just fine. Ellen is totally in love with his face....cuter than cute.
She's already torturing me for another one. The granddaughters (9 & 11 yrs) love him.

We are planning to have Teddie neutered on Aug 15. He was born 1/21....Aug 21st will be 7 mos.

Bill & Ellen in Maine
Hi Sally,

I just wanted to give you another update. Jacques has been such a wonderful addition to our family. He is the best kitten!! He doesn't scratch or bite..... only purrs 24/7. He is really good with the litter box. Also, he is a good eater. He is so sweet to everyone. Today is the first day that I am letting Jacques have free roam of the house with my supervision....however, he will still be in our room at night with us. Percy is still a little bit upset, but handling things nicely.

By the way....I gave Jacques a bath today. He was truly amazing. He never got upset......but seemed a little bit scared. He even let me dry him. My cats were never that cooperative despite me bathing them at early ages.

I really want to commend you on raising such a happy kitten. Whatever you are doing.....keep it going. I will definitely recommend you to any friends that are considering adopting a Himalayan/Persian.

He has a vet appt. for his next set of shots scheduled for Thursday afternoon.

Thanks again....I'll keep you posted.

Carol in Albany NY



| | |
| --- | --- |
| | |
| Jacques' First Bath! | |
| Percy | Jacques & Friends |

Hi Ray & Sally,

We bought "Big Ben" from you in the summer of 2006 and he has been the best! He now goes by "Rupert" (Noah and Coat d' Azure's kitten). Just what we were looking for per our original email to you all below. He is very personable, loves people and loves laying in your lap. I am writing you because my sister is moving up to New York to work in Architecture in early April and I am wanting to get her a kitten once she is moved in
and settled (she had a tabby Persian growing up). She loves Rupert and if possible would love to have Rupert's step brother if "Coat d' Azure" is still breeding (I see that Noah his father has since retired)? Again, A key concern is his temperament... preferring a calm and quiet lap cat, a cat that is personable, lazy, and likes to curl up in your lap for
hours. Please let us know and keep us up to date!

Thanks,

Justin

HI

I meant to email you earlier & forgot. They are doing GREAT! Bailey is a little mush...... & Tia is running around like she has lived here forever she is a little bouncing ball of fur..... She is already jumping into little areas to play & sleep all over, playing with toys, chasing her feather on a stick haha........ They both purr the minute I pick them up, they are just toooooo perfect.

I gave them some wet food when I got home around 3 & they ate it right up and now they are eating some dry food. Already peeing and pooping in their new litter box. They have seemed to make the crate they came home in their home base. Tia slept the whole way home & Bailey just talked to me a little bit but didn't really sleep, the sound of my voice seemed to calm him down
so I kept talking to him.

I have been trying to take a picture of Tia all day but she won't stay still long enough she is having so much fun exploring.

I already made them a vet appointment for Thursday and I will keep you posted as to how they are doing & will send pictures. I loved seeing all the kittens and cats roaming around your house everywhere I looked there were little eyes looking at me & the adult seal points are just as cute as their pictures! I was trying to figure out which one was Sophia she was the one that got my attention 1st on your website :)

Lisa in Hudson Valley NY

Dear Sally,

Sorry I haven't written for awhile, but my life at work has been very busy. We love our new boy. He is very affectionate and is always on our lap or giving us kisses. You honestly have the best kittens! If you ever need an endorsement, please call on me.

I don't know how you get to take such great pictures of your kittens, but I have a hard time. He is always moving around. He loves playing with anything and amuses himself. My white persian had a little hard time adopting to him, but it now so adorable when they sleep together (white and black). At one time the black kitten had his tail over the body of the white one and I ran for the camera. Didn't work that time either, but at least I enjoyed it for the time.

Hope all is well. Have a great summer.


MAUREEN in NYC

Hi Sally


Just an update.... Snowy is doing great!!!! At first a little shy, but she is getting her way around the house. So far between my room and Stephanie's room... she is already jumping on bed....purrrrrrring..... she ate....used the litter box (although I don't think she like the cristals on the electronic litter box a lot - just like you say on her manual) and she is drinking.


Here is a pic of her arrival with Stephanie.


Michelle in Boston




Sally,
I just wanted to send you a quick email letting you know that we love our kitten. The pictures didn't do her justice. When I took my my first look at her my heart began to melt. She is everything we wanted and more. She has adjusted right away and is already best friends with our pug Mazie. So again thank you so much to let us have such a great new family member.
Nicole in NY

(Dixie was a kitty we rescued and once we felt she had her self-esteem again, found her the purr-fect home in California)

I will tell you one thing....you did a fabulous job in socializing her.
I cannot imagine the conditions she must have been living in and for you
and your husband to take her in, clean her up and love her enough to
gain her trust, that's HUGE!! We refer to you as "Grandma and Grandpa"
because that's how we see what you did for her. One more thing, I have
never been as moved as I was the day I saw her on your web site. This
is unusual for me, I am not usually a spontaneous person: I over
analyze, re-think and justify everything in my head before I make any
moves. Such was not the case with her...I just knew she was waiting for
me. Have a great weekend. d


and....

I have to tell you, she has blossomed. She talks to me, much in the
same way my himmy's did. We carry on conversations (or maybe I just
THINK we are). John is constantly saying, "Fritz and Folly never got to
sit there, or climb there, THEY were disciplined!" So, she's spoiled -
so what - she deserves it! I think she's gained some weight since her
surgery, and other than using my carpet as a scratching post
occasionally, she's a perfect lady. She plays laser light (still her
favorite) and is starting to play with balls and some toys. She threw
up a 4" hairball in John's shoe (I loved it!), but other than
that....she's perfect! I would still consider another one down the
line, but I wouldn't trade these past three months with her, one on one,
for anything. I think it's been good for both of us. Take care. d

Hi Sally,


It has been awhile. All is going well for Don and I in Indiana with Ellington and Jazzie. Ellington is doing great! He is spoiled, but that's okay. As I type this email to you, he is sitting right beside me. There is so much he has picked up and does around the house to Don and I and to our friends. He is a social butterfly to everyone.

When I pull into our drive way, he is in the picture window looking at me. Then I open the door, and he is there to greet me. He follows me around the house a lot. If he is not in our bedroom at night, then he sleeps right outside our bedroom door. He has created this new thing of when we are sitting on the couch, he gets on the back side of the couch and puts his back end on the couch and his front paws on our shoulder. I don't where that came from, but it is a new one for him.

Don and I are foster parents, and he is so good to all ages we have had in our home. When we have had babies, we keep an eye on him. But he sniffs them, and then backs away. We do play it safe, and when they sleep, we close the door and make sure Ellington is not in there. Our neighbor and friend has a little boy that has some autistic type behaviors, and Ellington plays so well with him.

Ellington likes to sit on your lap or beside you. He cuddles with you, licks you, loves to be brushed and combed, and purrs when we trim his nails. He has this thing if you pet him and stop, he takes his paw and lightly touches your check or your arm. When ever I have been sick, he is right there and doesn't leave me all day. When I hold him, he has to have his face right next to my check. He loves to play, and we have lots of different toys for him. Oh, when I go to brush him, I can tap the brush and comb together, and he comes running and lays down beside me. Then I brush him without problems. He is a sight.

We have a dog, Jazzie, and she and Ellington play well together. It is cute.

I have attached some pictures. I hope they go through okay. Jazzie has long blonde hair, but this picture shows her summer hair cut.

Take care,


Mindy

\

I am very proud and very happy with my little fellow!

Bruce in NY

Hi Sally

We wanted to give you an update on "Tom" (my 4 year old named him). He is super cuddly, super cute and he LOVESSSSSSSSSSSSS to eat!! Did I mention that he is absolutely gorgeous?

He is a big baby with a very nice and playful disposition. He has really settled in since moving in over 4th of July.

We may be in touch soon as my husband and son are convinced that Tom needs a friend!

Sincerely,
Tom's family
Brooklyn, New York

Dear Sally ,

Here is the love of our lives he's the most lovable gentle intelligent cat we have ever had we love him so much . Thank you so much for delivering him to us over two year's ago . God bless you both .

Margaret in East Islip, New York



She continues to bring us great joy. She is such a sweet girl!!!!!

Jim & Evelyn, Georgia

As you can see by the pictures, Paisley adapted very quickly to our home. All the kitties love it when the bed is made – you can see she joined right in. She is a love bug!! She loves attention and can't wait to be brushed – you pick up the brush and she is right there meowing at you. She is a joy. She and Priscilla have become fast friends constantly chasing and playing.

She loves when I am my office. As you can see, she likes to help me with my work. When not sitting on my key board, she as a spot on my desk facing out the window watching the world go by. She truly is a doll and a wonderful addition to our family. Thank you so much for allowing us to adopt her!


Trent in NJ

Trilly giving Scott kitty kisses in her new home

Scott & Stephanie, Milton NY

I just want to say thank you for such a great pet. I bought a black persian last year and he is the king of our home and brings so much happiness to our lives.

His name is now Murderface, after our favorite cartoon character.Have a nice holiday.

thank you,
Rob D